From Nehru to Amit Shah, Indian leaders have been hypocrites toward English medium education. Congress must encourage all to adopt English as the national language.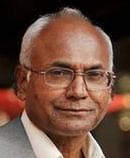 23 December, 2022 11:14 am IST
https://www.facebook.com/plugins/like.php?href=https://theprint.in/opinion/indian-education-wedged-a-huge-hindi-vs-english-class-system-only-rahul-gandhi-can-break-it/1278345/&layout=button_count&show_faces=false&width=105&action=like&colorscheme=light&height=21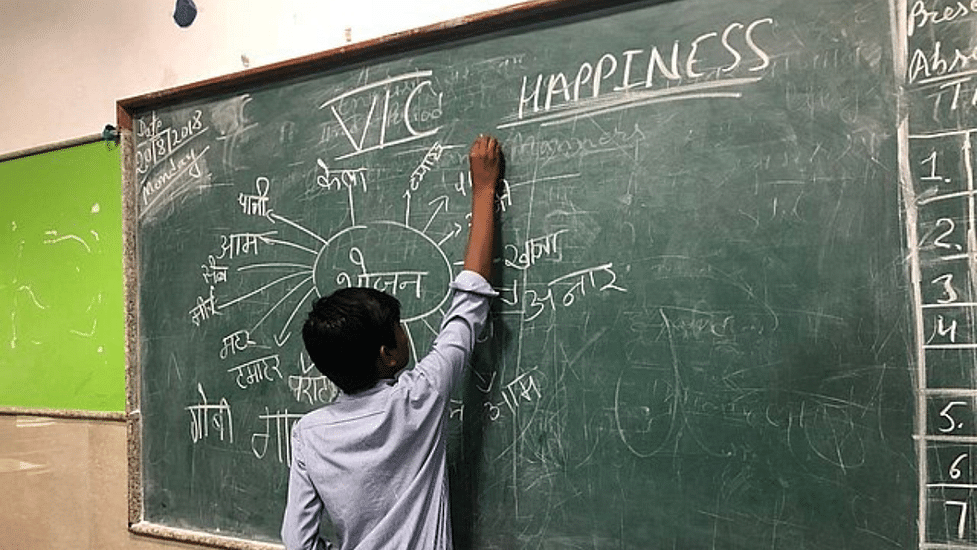 Delhi government school student defines happiness in a class | Wikimedia Commons
Addressing a rally in Rajasthan's Alwar as a part of the Bharat Jodo Yatra, Rahul Gandhi said, "BJP leaders don't want English to be taught in schools. But their children go to English medium schools. Actually, they don't want children of poor farmers and labourers to learn English, dream big, and get out of the fields." Having traversed through South India, where Andhra Pradesh Chief Minister Y.S. Jagan Mohan Reddy introduced English medium education in government schools in 2019 and Telangana followed suit, Rahul is now in the North to speak about it.
For the first time, a national leader has taken a clear stand against Prime Minister Narendra Modi and Home Minister Amit Shah's push for Hindi in educational institutions — from schools to universities. The push is a part of the Rashtriya Swayamsevak Sangh's (RSS) 'One Nation, One Language' agenda, which leaves English medium education to private institutions. Colleges such as Mumbai's Dhirubhai Ambani International School, Haryana's Ashoka University, or Noida's Amity University would be available for the rich, but the agrarian and artisan communities living in India's villages would be forced to learn local languages and have no global exposure.
Rahul Gandhi's call for providing English medium education to India's poor will generate a national debate on language politics and equality of education for all. Saying that this was the 'Congress' policy', he has surprised the top RSS-BJP and Communist leaders. In whichever states the BJP has come to power, it has refrained from providing equal, English medium education for all. The Communists did not do that in West Bengal and aren't doing it in Kerala either. The RSS and BJP are now trying to turn all government schools and colleges, including medicine and engineering in Madhya Pradesh and Uttar Pradesh, into Hindi medium institutions. The move has a clear direction at its core — 'Hindi for the poor'.
75-year-old hypocrisy
Rahul Gandhi is all set to change the private English medium and public regional language education policy adopted during Nehruvian days. As the first Prime Minister of newly independent, communal India, Nehru was very much confused over the 'English vs Hindi' as the national language debate.
Babasaheb B.R. Ambedkar was all for English medium education in government institutions, but that resolution was defeated in Parliament by one vote — of the first Indian President Rajendra Prasad. But, at the same time, the children and grandchildren of all the big leaders — M.K. Gandhi, Nehru, Prasad — studied in private English medium schools. The same trend was later adopted by the RSS, the Bharatiya Jana Sangh, BJP, and Communist leaders. This hypocrisy kept the children of the productive masses in modern slavish conditions with poor regional language education. It was only challenged by Jagan Mohan Reddy in 2019.
Regional leaders must step forward
Now, with Rahul Gandhi taking a pro-English position alongside party president Mallikarjun Kharge, Congress will have to direct all its state units to work out modalities to put a new education policy in the party manifesto for the 2024 Lok Sabha election.
The regional parties of the Hindi belt have to seriously think about the future of the Shudra, Dalit, and Adivasi children getting Hindi medium education. Akhilesh Yadav in Uttar Pradesh and Nitish Kumar and Tejashwi Yadav in Bihar have to come up with their education policy, particularly on English language instruction in government schools. Many of these regional leaders are Hindi chauvinists; their children were sent to private English medium schools. They do not spend an adequate amount of the state budget on quality English medium schools and colleges. They all prefer to keep children in rural areas either illiterate or poorly educated in regional languages. To say the least, it is an anti-constitutional education system as it keeps the poor educated in regional languages that offer little use in real life. Constitutional equality, essentially, must provide equal opportunities in the domain of education and knowledge.
Apart from political parties, there are a number of non-governmental organisations in India that practise the same hypocrisy — educating their children in private English medium schools, but remaining silent on the push toward regional language education. Unless all sections of political and civil society assert that all children, irrespective of class, caste, or region, should have the right to English language education along with a second regional language, India cannot achieve equality. Unless all people speak one language, they will not be able to communicate with people from other regions. They will not be able to speak to the world either.
Abolish the language divide
Reaching out for opportunities is every child's right. English language education should not create a new Indian class system where the rich have access to knowledge structures and the poor remain at the margins. All these years, the Indian education system has created a class system built on language politics. Now it must be done away with. Communist leaders who organised people to abolish the class system should take up this issue instead of being silent on educational equality all these years.
And RSS-BJP leaders cannot counter Rahul Gandhi when he talked about their own children getting private education in English.
Rahul, with his unshaven face and arm-in-arm with children on his padayatra, looks less a saint than just another of India's poor reconnecting with the country's ground realities. He is now prepared to spread equality in education, build peace and integrate life in a modern democratic nation. A common language to communicate with each other without any inferiority complex is the first requirement. One hopes that Rahul Gandhi's Bharat Jodo Yatra encourages India to adopt English as its national language and make it accessible to every child in the future.
Kancha Ilaiah Shepherd is a political theorist, social activist, and writer. He has been campaigning for English medium education in rural and urban government schools of India since the last thirty years. Views are personal.
(Edited by Humra Laeeq)
https://theprint.in/opinion/indian-education-wedged-a-huge-hindi-vs-english-class-system-only-rahul-gandhi-can-break-it/1278345/