First Brahmins benefited from the pro-English agitations of Tamil people. Now Amit Shah's agenda is harming Shudra/Dalit/Adivasi global job prospects.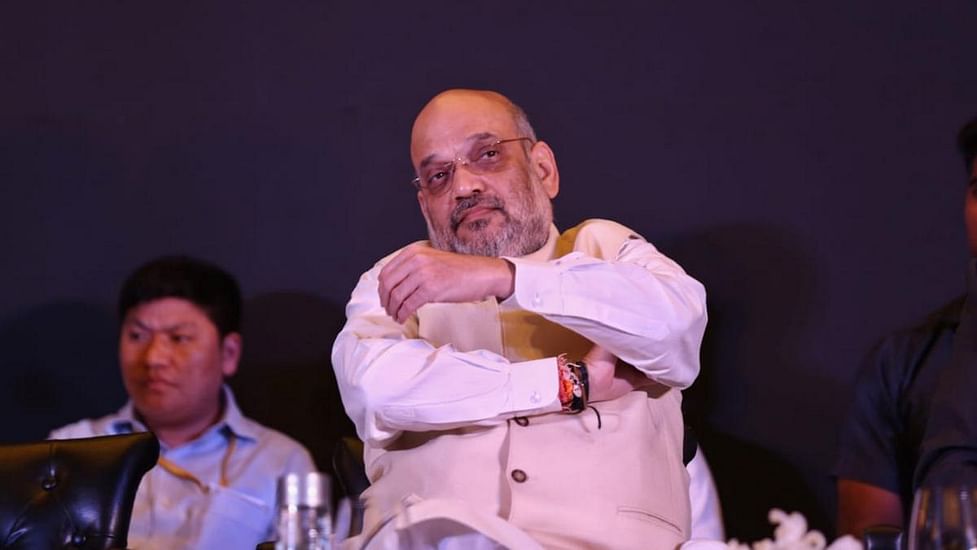 Union Home Minister and BJP president Amit Shah | Photo: Suraj Singh Bisht | ThePrint
The Rashtriya Swayamsevak Sangh and the Bharatiya Janata Party's agenda of 'One nation, One language' is back, and with that, the Narendra Modi government's plan to pressure the South and Northeast India to accept Hindi as the 'national' and 'official' language. But it's not just that. Union Home Minister Amit Shah's recent statements indicate something more serious — alongside the nationwide Hindi imposition, there is also an anti-English agenda being promoted.
In his capacity as the chairperson of the Official Language Committee, Amit Shah, on 7 April, said: "People from different states should speak Hindi, not English". Significantly, he completely ignored the private sector, where English is usually the primary language of communication. Just a day before, the chairperson of the University Grants Commission (UGC), M. Jagadesh Kumar, announced that there was a plan underway to enable foreign universities to set up campuses in India. Will the students and teachers within these campuses speak Hindi? Will students of certain caste/class be excluded from these universities on account of the language barrier? Did Amit Shah ask Ashoka or Amity universities to teach in Hindi and not English? These are questions that need to be asked. Clearly, the home minister would like to see JNU and Delhi universities converted into Hindi-medium institutions. The process is already on.
Implication for Shudras, Dalits and Adivasis
Before we start worrying about the future of linguistic pluralism in India, it's important to see the serious implications of opposing English in the government sector for the country's Shudra/Dalit/Adivasi communities. Amit Shah is one of the strongest proponents of privatisation of the government-sector industries and educational institutions. School and university education are also not untouched by it. But what the home minister is conveniently ignoring is that most private-sector educational institutions run English-medium schools and colleges. What does Amit Shah do there? How does he plan to impose Hindi on software companies that are a big source of revenue for the Indian economy? Much of the software industry is in private hands and operates only in the English language? Will the industry survive if it is barred from using English?
If the South and Northeastern states are forced to speak Hindi, their reach and exposure will suffer. This is not the first time that the central government has tried to impose Hindi on non-Hindi speaking states. Even the Congress government had done so when English did not command the same status in internal and external economic relations. Now that the language has become a real engine of survival for India, how does Amit Shah solve this economic conundrum?
How Tamil Brahmins benefitted
Between 1937 and 1940, C. Rajagopalachari, the first chief minister of Tamil Nadu, tried to impose Hindi on the state's population and caused a major anti-Hindi agitation. Rajagopalachari was a soft Hindutva man in the Congress camp and was essentially representing a Brahmanical view of Indian civilisation. His stance on Hindi also divided the Brahmin Congress ideologues. T.T. Krishnamachari was a strong anti-Hindi and pro-English leader. However, Periyar Ramasamy Naicker mobilised the Shudra/Dalit masses against the imposition of Hindi and succeeded in resisting it. In 1965, when the Lal Bahadur Shastri government-imposed Hindi, it led to massive agitations, firings and several incidents of self-immolation in Tamil Nadu. More than 70 people died and as a result, the Congress lost in the 1967 assembly election when Annadurai of the Dravida Munnetra Kazhagam (DMK) became the chief minister. The rest is history.
Who benefited from the pro-English agitations of Tamil people? The Tamil Brahmins, most of whom studied in private Christian missionary schools. In a recent memoir — Land, Guns, Caste, Woman — Gita Ramaswamy, a Tamil Brahmin woman who rebelled against Brahmanism, said that her childhood was led by diametrically opposite beliefs at home and in the English medium school where she studied. She says that she was a 'Brahmin at home and a Catholic in school'. The Brahmin home taught her that her menstruation was 'a horrible pollution' that could 'break idols of gods' if she touched them during her menstrual cycle, while her school taught her that menstruation was a process of her 'procreative energies'. English, in a way, liberated Brahmins and Baniyas more than other castes. Today, the top Bania industrialists operate only in English and also run world-class private English medium schools and colleges. Does Amit Shah plan to close them down too?
English-medium education is critical
The Shudras/Dalits/Adivasis are just starting to absorb English but Amit Shah wants to deny them even the hope of getting into the global job market. Within India too, because of the lack of command over spoken and written English, these communities are denied private-sector jobs. If they do not speak English, how would they ever learn it?
It is because of this English education that Tamil Brahmin-origin Kamala Harris is the vice president of America and Sunder Pichai is the CEO of Google. Not only that, but because of their strong English-medium education, the Tamil Brahmins have historically held high positions in successive central governments. In the Modi government, Finance Minister Nirmala Sitharaman and Minister of External Affairs S. Jaishankar are a continuation of that English education legacy.
Amit Shah seems to be working out another agenda that could light a fire. India and China are now competing in the global markets with an expanded English language base. Whatever the nationalistic rhetoric, if it's set against learning English, it will invariably push India backwards.
Kancha Ilaiah Shepherd is a political theorist, social activist and author. He has been campaigning for English-medium education in government schools across the country for the last 30 years. Views are personal.
(Edited by Srinjoy Dey)
https://theprint.in/opinion/indias-brahmin-baniya-profited-from-english-bjp-rss-want-to-deny-that-to-dalit-adivasis/911712/
https://pagead2.googlesyndication.com/pagead/js/adsbygoogle.js?client=ca-pub-6388611372302111