Changing Kanshi Ram's fundamental slogan of 'Bahujan Samaj' to 'Sarvajan Samaj' has cost Mayawati and BSP. UP and Punjab election results were expected.
https://www.facebook.com/plugins/like.php?href=https://theprint.in/opinion/mayawati-bsps-political-evaporation-certain-blame-it-on-shift-to-sarvajan-samaj-in-2007/875933/&layout=button_count&show_faces=false&width=105&action=like&colorscheme=light&height=21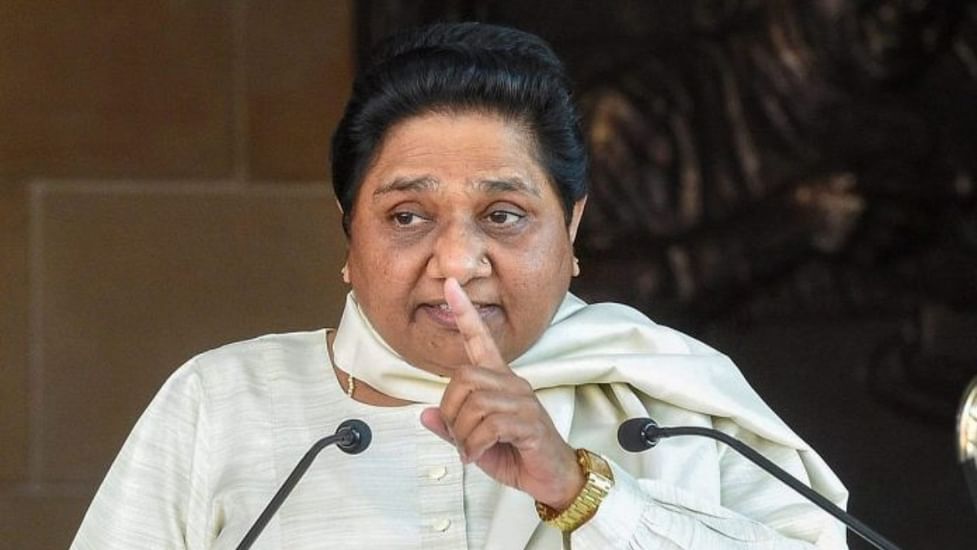 File photo of BSP chief Mayawati | PTI
In the recent Uttar Pradesh and Punjab elections, the Bahujan Samaj Party, headed by Mayawati, remained almost invisible like the Left parties of India. In UP, where Mayawati was a chief minister for one full term from 2007 to 2012, and before that, for three short terms, she did not undertake a visible campaign. The party did not win seats, and its vote share dropped to the lowest. But that was expected.
There are both knowns and unknowns behind Mayawati's inactivity. We know that the Narendra Modi government might raid her properties. What we don't know, however, is if the threat of a raid existed even before the 2019 election when the BSP contested in alliance with the Samajwadi Party and Mayawati was still an active player.
---
Also Read: Beyond minor tweaks, BJP, SP, BSP are still following old caste, religion formulas in UP
---
BSP's ideological shift
Is there any other reason for her inactive political life? Yes. The party rank in Uttar Pradesh has become so weak that she cannot run an effective and visible campaign. In fact, Mayawati punctured her own ideological tyre just before the 2007 election. She, along with her new 'ideological mentor', Satish Mishra, a Brahmin leader, changed the fundamental slogan of Kanshi Ram from 'Bahujan Samaj' to 'Sarvajan Samaj'.
The idea of Bahujan Samaj was a new electoral combination of Dalit/Other Backward Classes/Adivasis with the support of minorities wherever possible. Moreover, it was supposed to be a sociopolitically transformative slogan with a systematically worked-out agenda drawing heavily from Ambedkarism. Even though a parallel OBC party came into existence in UP in the form of the Samajwadi Party, the BSP was the main ideological strength for all oppressed communities in terms of ideology.
The BSP won the 2007 election by roping in the Brahmin community, not so much Kshatriyas. The Kshatriyas remained with the Bharatiya Janata Party in the post-Congress phase in the state and completely owned the Ram temple controversy as more of a community issue than religious. The stable position that the Kshatriyas occupied in Rashtriya Swayamsevak Sangh/BJP gave enormous strength to Yogi Adityanath. Meanwhile, the Brahmins lost bargaining capacity in the BJP because of their association with BSP from 2007 to 2012. More significantly, however, the BSP lost credibility among the Dalit/OBC ideological forces and also among voters because of its political marriage with the Brahmin community.
During her tenure in power from 2007 to 2012, Mayawati did not show any major policy reforms that could become a model among the poor and lower-middle classes in the country. The only 'change' she brought was distributing land among Dalits and building some monuments around Ambedkar, Kanshi Ram, and of course, her own self. The Brahmins were upset with monuments, though they got some state benefits like jobs along with Dalits and OBCs. There was a view that in the general category jobs, Brahmins were preferred not Thakurs and Jats during her regime. However, by the 2012 elections, the Brahmins moved away from the BSP. The non-Yadav OBCs who were with BSP also seemed to have become frustrated with her politics and personal behaviour like putting note garlands around her neck in public meetings, not caring for ministers, etc, and moved away.
In 2014, the RSS/BJP changed their ideological position on caste and roped in many non-Yadav OBCs along with non-Jatav Dalits into their electoral base. Mayawati and her mentor, Satish Mishra, lost out on all fronts. They did not know where to go and which combination would work in their favour. The Muslims are still aligned with Samajwadi Party — they were never strongly with BSP even during Kanshi Ram days because, for a long time, they did not buy into the caste ideology.
---
Also Read: Is the game over for BSP? Mayawati's politics pales in the face of Kanshiram's legacy
---
Lack of structure
The BSP, as a party, has never built a structured organisation with proper central and state bodies, despite its presence in many states. When Kanshi Ram was alive, he was the BSP's 'all-in-one', and after his death, Mayawati became the party's 'everything' as the party president. But at the same time, she lost her decision-making capacity and started relying on Satish Mishra. A party that came into existence with a Dalit centrality was thrown into the lap of a Brahmin who was never known for any social reform work. There was no second Dalit leader in that party, at least to represent the ideology with an organic social base.
This kind of structure, except individual leadership, though not dynastic, does not even have the scope for survival that the communist parties have in an adverse political atmosphere. While the communists became irrelevant in a caste identitarian environment and stuck to their class theory, which had hardly any takers, the BSP gave up its ideology of 'Bahujan Samaj' within a short time for the sake of power in 2007. The power came with the Brahmin alliance, but the party's death began from that very position of power between 2007 and 2012.
Soon it was not just the power that it lost, but its political, economic and moral support base as well. Unlike many regional parties, the BSP did not come into existence just for power within the welfare ideology of the Congress or the BJP. It came with a definite anti-caste ideology. Unfortunately, the ideology no longer plays a part within the BSP. It has become a Mayawati-Satish Mishra party.
---
Also Read: Calling BSP 'BJP's B-team' shows caste bias. Here are four reasons
---
Mayawati's shortcomings
Mayawati is not a great ideological leader with an all-India reach like Kanshi Ram. She has oratory skills but speaks without an ideological standpoint and is a politician who cannot inspire the cadre. She has gradually become a 'script-reading leader' even in public meetings. It is a sad state of affairs. Illiterate, semi-literate and even educated Indian masses need a leader who arouses emotions in public meetings.
Mayawati's failure to retain an all-India leadership role is because she and her party confined themselves to Delhi and Uttar Pradesh. Despite having activists working and living for the party ideology in other states, it wasn't much use. It has no leader who could sustain the ideology of Kanshi Ram in the present political environment.
To me, it appears that even though the communist parties — Communist Party of India (Marxist) and Communist Party of India — have become irrelevant, they still have organisational structures and hang on to their classical ideology. The BSP may gradually evaporate as the only known leader has given up on its Bahujan (read: anti-caste) ideology and there's no second-level leadership and structure to take it forward. It is a great tragedy that Kanshi Ram's labour and love of Bahujan liberation has been dragged down so soon by someone he chose with so much hope.
Kancha Ilaiah Shepherd is a political theorist, social activist and author. His book God As Political Philosopher — Buddha's Challenge to Brahminsm was written to strengthen anti-caste ideology in the 1980 and 90s. Views are personal.
https://theprint.in/opinion/mayawati-bsps-political-evaporation-certain-blame-it-on-shift-to-sarvajan-samaj-in-2007/875933/
https://pagead2.googlesyndication.com/pagead/js/adsbygoogle.js?client=ca-pub-6388611372302111