Why Kamala Harris for US President: The world must root for this candidate in the US presidential battle
Kamala Harris has made her racial identity central to her campaign. Like Barack Obama, she shows both audacity and hope. The world has never needed both more.
Kamala Harris, one of the top four Democratic candidates in the US presidential elections, recently made Indians and Jamaican people proud.
She also made globally discriminated people, including the Indian Shudras, Dalits and Adivasis, who have no recognition worldwide, prouder after her June 27 debate on the NBC news channel.
Kamala Rising! Joe Biden and Kamala Harris locked in a fierce debate on June 27. (Photo: Reuters)
After the debate, her rating is rising — she seems to be second only to Joe Biden.
Kamala is the daughter of an Indian Dravidian Tamil woman, Shymala Gopalan, a breast cancer scientist, and a Jamaican economist, Donald Harris, a Stanford University professor.
Donald Harris wrote an essay titled Reflections of a Jamaican Father, for Jamaica Global Online, in which he revealed that he descended from Irish slave owner Hamilton Brown, while Shymala's ancestry is not very widely known.
Shymala's biographical details tell us that her father, PV Gopalan, was a diplomat from Chennai, Tamil Nadu. Even assuming that Gopalan comes from a Tamil Brahmin background (we do not know his exact caste), his daughter Shyamala chose to represent the black slaves of the world due to her identities of a Dravidian black person and a woman.
All Indian women were/are equivalent to Shudras as per ancient tradition.
It is important to understand how the Indian caste system shares a common cultural trait with that of white racism in America.
What Kamala is today is because of her bold mother — Shyamala chose to marry a Jamaican black person and worked as a civil rights activist for blacks and other people of colour living in America. Hardly any Indian settled in America associated with the black civil rights movement as Shyamala did. She was living through Martin Luther King's times and she dared to oppose white racism when she was a student at the University of California, Berkeley. Shyamala comes across as an independent woman who believed in the idea that 'black is beautiful'.
Bold and Brilliant: Kamala Harris with mother Shyamala Gopalan, a breast cancer scientist. (Photo: AP)
Her daughter inherited the intellectual and ideological heritage of her mother and father. Her father was a Left economist with a serious concern for human equality.
While her mother was a serious scientist, apart from being a civil rights activist, her father was a fine economist who wrote books on comparative economics. One title, The Economic Theory of the Leisure Class, which he published still attracts the attention of any serious student of economics.
Kamala proved to be a true daughter of her mother and father — she has worn her blackness on her sleeve.
She said, "I am black and I am proud of it." She also claimed that like Barack Obama, she belongs to the American Baptist church which has trained many black activists in American history to be great leaders. We know that Martin Luther King himself was a Church preacher in Alabama.
After the June 27 debate, there is an attempt to attack her by the right-wing black supporters of Donald Trump. They are arguing that she is not an African-American black woman.
This is nonsense.
She is also competing with Joe Biden, Bernie Sanders and Elizebeth Warren, with the same spirit that Obama once fought with.
If she gets the Democratic party's nomination and incidentally wins the election, defeating a very unstable Donald Trump, the US will have a black woman President from two black immigrant parents — this will have implications for global democracy too as the system would achieve what has so far remained unachievable.
India is proud of Kamala Harris. The first caste liberator, Mahatma Jyotirao Phule, wrote his book Gulamgiri in 1871 and dedicated it to the struggles of the people then called Negroes in the America of his time. In Tamil Nadu, Periyar EV Ramasamy built a Dravidian movement by sporting black Shudra slavery on his sleeve — he always wore a black shirt as a symbol of the Dravidian identity. Though racial discrimination was not accepted by Dr BR Ambedkar, both Phule and Periyar strongly saw the link between caste and race discrimination in India.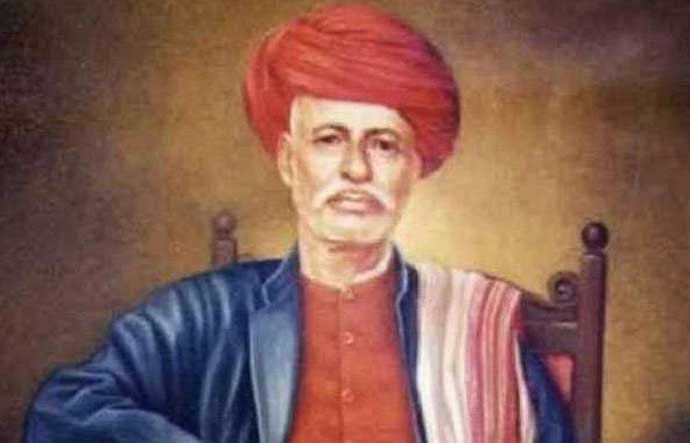 A Visionary: Jyotirao Phule dedicated his book Gulamgiri (1871) to the anti-racism struggles of America of his time. (Photo: PTI)
In 2001, the Indian Dalit-Bahujan activists, including me, took the caste issue to the UN Conference against racism, racial discrimination, xenophobia and related intolerance. At that time, the government of India, headed by Atal Bihari Vajpayee and pro-government intellectuals, argued that race has nothing to do with caste. Many of us felt that both caste discrimination and untouchability came into being because of the Dravidian and Aryan race divisions in India over a period of time. Now, DNA studies have also proved that.
Shyamala and Kamala Harris have proved that whatever their caste origins back in India, racial discrimination is a global phenomenon. Kamala Harris made her race question more central than Barak Obama did before the 2008 Femocratic primary debates.
The way Kamala challenged Joe Biden, the former Vice-President of America, on his position on racism shows that she has decided to win the primaries on her own terms.
The fact that she is a senator already and was always forceful about her black woman identity shows that she will definitely make history in this election.
Her fight in the US will encourage many more world over. From the days of Abraham Lincoln and his murder by a group of white racists, and the murders of John F Kennedy and Martin Luther King to Barak Obama's election and his safe retirement, America has transformed quite a lot.
Much like Obama's Audacity of Hope, Kamala is showing her own audacity. American society's deeply entrenched patriarchy came to the forefront when it did not allow even a white woman to become President. Kamala's victory won't just be a victory for the oppressed sections in the US — but those historically discriminated against across the world.
Indians will be the proudest people then.
https://www.dailyo.in/politics/kamala-harris-us-presidential-elections-2020-joe-biden-donald-trump/story/1/31363.html